Captain's Quarters Resort - 1-800-845-0658 - 901 S. Ocean Blvd., Myrtle Beach, SC 29577
VacationMyrtleBeach.com Vacation Member Benefits (VMB) Card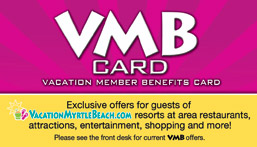 The Vacation Member Benefits (VMB) Card is exclusively for VacationMyrtleBeach.com Resort visitors. Save money by presenting your VMB Discount Card at any of the following participating vendors. View a sample vacation itinerary of a family of four and find out how you can save up to $225 with our VMB Card!

This card is available free of charge for guests at check-in.
Attractions
Myrtle Beach SkyWheel
843-839-9200 | 1110 North Ocean Boulevard, Myrtle Beach, SC 29577
$2 off your SkyWheel flight. Valid up to 6 people. Must be redeemed before 7:00 pm and cannot be combined with any other discounts.

WonderWorks
843-626-9962 | Broadway at the Beach, Myrtle Beach, SC 29577
FREE Souvenir Mood Cup and Soft Drink. One per VMB Card with paid admission.
Partner Website
Ripley's Aquarium
843-916-0888 | Broadway at the Beach, Myrtle Beach, SC 29577
One child's shark tooth necklace per card per family for kids ages 4-12

Myrtle Beach Pelicans
843-918-6000 | 1251 21st. Avenue North, Myrtle Beach, SC 29577
During 2013 season: Free Meal Voucher (Hot Dog, chips, small soda) with purchase of regular price field box reserved box or reserved bleacher ticket direct from TicketReturn.com box office (not applicable w/ Pelicans week tickets).
Partner Website
Family Kingdom
843-626-3447 | 300 South Ocean Blvd., Myrtle Beach, SC 29577
$3 off Amusement Park All Day Ride Pass (Open seasonally; Not valid in conjunction with any other offer. Card must be present at time of purchase. Wristband excludes Splashes Water Park, Go Karts and Zip Line. Discount is good for up to 6 paying guests per day, per visit. Valid 2013 Season only)
Partner Website
Wild, Water & Wheels
843-238-3787 | 910 U.S. 17 Business, Surfside Beach, SC 29575
Water Park only- $21.98 +tax per person, up to 6 people per card (reg.$27.98)

NASCAR SpeedPark
843-918-8725 | 1820 21st Avenue North, Myrtle Beach, SC 29577
$3.00 OFF Unlimited Ride Wristband – Includes all day, unlimited rides on 6 go-kart tracks (Thunder Road not included), 6 kids' rides, 2 mini-golf courses and rock wall climbing. *Valid for 2013 operating season, may not be combined with other discounts/offers.
Partner Website
Pavilion Nostalgia & Carousel Park
Pavilion: 843-918-8725 Carousel: 843-918-8737 | Pavilion Nostalgia Park 1171 Celebrity Circle; Carousel Park 1309 Celebrity Circle, Myrtle Beach, SC 29577
$3.00 OFF 9-Ticket Bundle – Includes 9 ride tickets valid for use at Pavilion Nostalgia or Carousel Park, both located at Broadway at the Beach! *Valid for 2013 operating season, may not be combined with other discounts/offers.
Partner Website
Myrtle Waves Water Park
843-918-8725 | 3000 10th Ave. N., Myrtle Beach, SC 29577
$3.00 OFF Admission – Includes all day admission to South Carolina's largest water park with 22 attractions and over one-million gallons of splashing family fun! *Valid for 2013 operating season, may not be combined with other discounts/offers.
Partner Website
SunCruz Casino
843-280-2933 ext. 1 | 4495 Mineola Ave, Little River, SC 29566
$60 Cruise Package for only $35 when you show your VMB Card. This inclusive package includes, All Applicable General Boarding Fees, 2-Well Drinks, $5 in Free Play (slots) and $5 Match Play (table games), Lucky Ace as First Card in Blackjack and 1-Free Spin on $1 Slot. a la carte menu available on board. Reservations recommended. Must be 18 and have a valid government-issued photo ID to board. Must be 21 to drink alcohol. Not valid with any other coupon.
Partner Website
Level 6 Entertainment Center
800-743-8572 | Captain's Quarters, 901 S. Ocean Blvd., Myrtle Beach, SC 29577
Sunday – Thursday: 50% Off Bowling; Friday & Saturday: 20% Off Bowling (Subject to lane availability and not valid with other discounts; shoe rental not included)
Partner Website
Calabash Fishing Fleet
866-575-0017 | 9945 Nance Street Calabash, NC 28467
Buy one get one 50% off 1/2 Day Fishing; Buy get one 50% off Dolphin Cruise (every day but Sunday; weather permitting)

MagiQuest
843-916-1800 | Broadway at the Beach, 1185 Celebrity Circle, Myrtle Beach, SC 29577
Free Dragon Wand Upgrade ($4 value) with purchase of any New Magi Package
Partner Website
Encounters UFO Experience
843-353-0046 | 1138 Celebrity Circle Unit 323 Myrtle Beach, SC 29577
30% off each Adult Admission (ages 13 - 59); Discount not available for the following: $12 for seniors and students, and $10 for children (ages 4 – 12). Children under the age of three are free.
Partner Website
Downwind Sails
843-448-7245 | 2915 South Ocean Blvd., Myrtle Beach, SC 29577
$10 off parasailing and jet ski rentals (open seasonally)
Partner Website
Slingshot Thrill Ride
843-444-8255 | 1201 N. Ocean Blvd., Myrtle Beach, SC 29577
$8 off Slingshot Thrill Ride and DVD combo (11 a.m. to 7pm, not valid with any other discount) (open seasonally)
Partner Website
Apache Pier
843-497-6486 | 9700 Kings Road
Day of fishing for $18 plus deposit per person including rod rental, daily fishing pass and bait (reg. $22 plus deposit)
Partner Website
Myrtle Beach Watersports
843-903-3456 | 101 Fantasy Harbour Blvd., Myrtle Beach, SC 29577
Sea Thunder and Sea Screamer Dolphin Tour $15; Wave Runner Rentals $45 1/2 hour; Pontoon Boats $175 1/2 day or $250 all day (8 hr); Wave Runner Dolphin Tour $125 (all rentals and tours are seasonal; call for details)
Partner Website
J&L Kayaking
843-267-6816 | North Myrtle Beach
$5 off per person and free photo CD with the purchase of any guided tour; or $10 off per person and free photo CD for moonlight tours
Partner Website
Barefoot Princess Riverboat
(843) 272-6796 | 4932 Highway 17 South, North Myrtle Beach 29582
Buy 1 get 1 free - Any sightseeing cruise (adult ticket only) - call number above for reservations with this offer
Partner Website
Grapefull Sisters Vineyard
(910) 653-2944 | 95 Dot's Drive, Tabor City, NC
Buy One, Get One FREE for wine tasting (reg. $5/each)
10% off case of wine

Reel Action Fishing Charters
843-997-3077 | 2201 Little River Neck Rd., North Myrtle Beach, SC 29582
Kids 11 and under go free on private fishing or shrimping charters and $10 off charter price (limit 6 adults per charter)
Partner Website
Waccatee Zoo
843-650-8500 | 8500 Enterprise Rd., Myrtle Beach, SC 29588
10% off total admissions with VMB card - 10% off gift shop purchases $10 or over with VMB card
Partner Website
Dragons Lair
843-913-9301 | 1197 Celebrity Circle, Myrtle Beach, SC 29577
$1 off per person per round of mini golf or $3 off all day play before 6 p.m.
Partner Website
Jurassic Golf
843-913-5333 | 2900 S. Kings Hwy., Myrtle Beach, SC 29577
$1 off per person per round of mini golf or $3 off all day play before 6 p.m.
Partner Website
Entertainment
Alabama Theatre
1-800-342-2262 | 4750 Highway 17 South North Myrtle Beach, SC 29582
ONE: The Show - Kids 16 & under Free - use code 137VMB (2 per paid adult; shows resume in Feb.); 10% off items in Gift Shop
Partner Website
Palace Theatre
843-448-0588 | Broadway at the Beach, Myrtle Beach, SC 29577
$4 OFF ADULT TICKETS TO "HOT JERSEY NIGHTS". Must mention code VMB20 at time of purchase. Not valid with other discounts. Expires 6/1/13; $4 OFF ADULT TICKETS TO "ILLUSIONS OF MAGIC". Must mention code VMB20 at time of purchase Not valid with other discounts. Expires 9/28/13. (see website for seasonal show schedule)
Partner Website
Legends in Concert
843-238-7827 | 2925 Hollywood Drive, Myrtle Beach, SC 29577
2 Kids Free with each paid adult ticket (not valid with resort spring free ticket offer) (Based on availability)
Partner Website
Comedy Cabana
843-449-4242 | 9588 North Kings Highway, Myrtle Beach, SC 29572
Buy one admission, get one 50% off (not valid Saturdays or special events); Must present VMB Card
Partner Website
House of Blues
843-272-3000 | 4640 Hwy 17 S., North Myrtle Beach, SC 29582
Free Koozie on The Deck at the House of Blues plus live music Monday - Saturday with no cover
Partner Website
Dining
Aspen Grille
843-449-9191 | 5101 North King's Hwy Myrtle Beach, SC 29577
10% off food. Not valid with other offers or specials or on holidays.
Partner Website
Bimini's
843-449-5549 | 930 Lake Arrowhead Road, Myrtle Beach, SC 29572
Save 15% off Food Purchase (Excludes 1/2 price oysters and all beverages)
Partner Website
Brother Shuckers Fish House
843-903-7946 | 4999 Carolina Forest Blvd., Myrtle Beach, SC 29579
20% off dinner or lunch excluding alcohol

Carlos'n Charlie's
843-712-1952 | 1202 Celebrity Circle, Myrtle Beach, SC 29577
Free House Appetizer (with the purchase of entree, one per table of 4)
Partner Website
Captain Jack's Seafood Buffet
843-427-4972 | 1400 S. Hwy. 17, North Myrtle Beach, SC 29582
Free lobster, OR up to $4 off Adult Buffet, plus show your VMB Card for first available seating

Castano's Italian Steakhouse
843-361-2000 | 4926 Highway 17 S, Barefoot Landing, North Myrtle Beach, SC 29582
One free dessert per table with purchase of 2 dinner entrees. One per table, dine-in only, cannot combine.
Partner Website
Chestnut Hill
843-449-3984 | 9922 North Kings Highway, Myrtle Beach, SC 29572
Free appetizer with the purchase of an entree. Limit one per table, limit $10 value. Excludes oysters. Not valid on holidays.
Partner Website
Creek Ratz
843-651-5100 | 4065 Highway 17, Murrells Inlet, SC 29576
Free Pimento Cheese Dip or Fried Pickle Chips with purchase of an entree.
Partner Website
Croissants Bistro & Bakery
843-448-2253 | 3751 Robert Grissom Parkway, Myrtle Beach, SC 29577
$10 off two dinner entrees (may not be combined with any offer and not valid for any special menus including Christmas Eve, New Year's Eve, and SC Restaurant Week)
Partner Website
Dairy Queen
843-448-2231 | 2103 S. Kings Hwy., Myrtle Beach, SC 29577
50 cents off Blizzard or OJ Smoothie with VMB Card

Damon's Grill
843-626-8000 | 2985 S. Ocean Blvd., Myrtle Beach, SC 29577
Choice of free Famous Onion Loaf, Artichoke Dip or Chocolate Chip Cookie sundae for your party with Entree Purchase
Partner Website
Dirty Dick's Crabhouse
843-663-3499 | 1101 Hwy 17 N., North Myrtle Beach 29582
15% off food and non-alcoholic beverages (up to 4 diners; excludes All You Cant Eat and Featured Specials)
Partner Website
Ducatis Pizzeria and Trattoria
843-839-5373 | 960 Cipriana Dr. Suite B-4, Myrtle Beach SC 29572
Free appetizer with any two dinners or with any large specialty pizza

Fuddruckers
843-946-6887 | 2101 North Kings Highway, Myrtle Beach, SC 29577
15% off any adult entree
OR
Buy one 1/3lb burger, get one free w/ purchase of 2 beverages (Toppings including specialty toppings not included. Limit one offer per visit.)
Partner Website
Fuddruckers
843-272-8637 | 10435 N. Kings Hwy., Myrtle Beach SC 29572
15% off any adult entree OR Buy one 1/3lb burger, get one free w/ purchase of 2 beverages (Toppings including specialty toppings not included. Limit one offer per visit.)
Partner Website
Hard Rock Cafe
843-946-0007 | 1322 Celebrity Circle, Myrtle Beach, SC 29577
15% off food and non-alcoholic beverages

Hot Fish Club
843-357-9175 | 4911 Highway 17 Business, Murrells Inlet, SC 29576
Complimentary Appetizer per party with Entree Purchases (up to $8.00 value)
Partner Website
House of Blues
843-913-3746 | 4640 Highway 17 South, North Myrtle Beach, SC 29582
$5 off every $25 spent on food in the restaurant (not valid with other offers)
Partner Website
Inlet Crab House
843-651-8452 | 3572 Highway 17, Murrells Inlet, SC
One free appetizer (up to $8.95) per party with the purchase of an entree (not valid with baskets)
Partner Website
Liberty Seafood Buffet
843-712-1915 | 201 N. Kings Hwy., Myrtle Beach, SC 29577
Free lobster, OR up to $4 off Adult Buffet, plus show your VMB Card for first available seating

Loco Gecko
843-448-6800 | 805 S. Ocean Blvd., Myrtle Beach, South Carolina 29577
10% off all food (Not valid with any specially priced items)
Partner Website
Longbeard's Grill
5040 Carolina Forest Blvd, Myrtle Beach, SC 29579 | 843-903-2905
Buy one dinner entree and get a second dinner entree 50% off (Minimum purchase of $25)
Partner Website
Moe Moons
84-448-4926 | 990 Boardwalk (Ocean Blvd.), Myrtle Beach, SC 29577
15% discount on all food (offer valid after 5 p.m.)
Partner Website
New York Prime
843-448-8081 | 405 28th Avenue North, Myrtle Beach, SC 29577
Free appetizer for party with purchase of entrees (excludes "As Quoted" items)
Partner Website
Nosh
843-314-9014 | 10880 Ocean Hwy, Pawleys Island, SC 29585
10% off food excluding alcohol and holiday specials
Partner Website
The Original Spring House Family Restaurant
843-272-4880 | 4601 Highway 17 South, North Myrtle Beach, SC 29582
10% off check OR $5 off $25 or more
(Not valid with any other discounts or specials; Discount will be taken off pre-tax total.)

Planet Hollywood
843-448-7827 | 2915 Hollywood Drive, Myrtle Beach, SC 29577
15% off all food and gift shop purchases. Limit one VMB Card discount per table.
Partner Website
Rodeo Bar and Grill
843-315-0120 | 1318 Celebrity Circle, Broadway at the Beach, Myrtle Beach, SC 29577
Free appetizer with the purchase of an entree (limit 1 per table) and free admission before 11 p.m. (ages 21+)
Partner Website
Sara J's
843-651-1657 | 314 Atlantic Avenue, Murrells Inlet, SC 29576
Choice of free appetizer for party (shrimp cocktail, calamari, oysters on the half shell, buffalo shrimp) with entree purchases (open seasonally)
Partner Website
Señor Frog's
(843) 444-5506 | 1304 Celebrity Circle Myrtle Beach, SC 29577
Free Chef's Nachos with the purchase of an entree (one per table of 4)
Partner Website
TGI Friday's - 76th Avenue North
843-497-8888 | 7515 N. King's Hwy, Myrtle Beach, SC 29572
$5 off purchase of $25 or more (before tax)

Texas Roadhouse Grill
843-839-9944 | Coastal Grand Mall, Myrtle Beach, SC 29577
10% off entire party Lunch or Dinner, excluding alcohol. Not valid with any other discount.
Partner Website
Zulu Tapas Lounge
843-213-1730 | 9668 N. Kings Hwy., Galleria Shopping Center, Myrtle Beach, SC 29572
Free dessert with the purchase of any entree (limit 1 per table) and a free refill on any Hookah with the purchase of a Hookah
Partner Website
Shopping
Golf Dimensions
843-236-5500 | 3432 Highway 501, Myrtle Beach, SC 29579
10% Off Entire Purchases over $50 (Some restrictions apply. Details posted in store. Not valid with any other coupon or discount offers. Must show card for discount.)
Partner Website
Golf Dimensions - North Myrtle Beach
843-272-4630 | 2301 Highway 17 South Myrtle Beach, SC 29582
10% Off Entire Purchases over $50 (Some restrictions apply. Details posted in store. Not valid with any other coupon or discount offers. Must show card for discount.)
Partner Website
Me & Mommy
843-361-9191 | 2004 Highway 17 South, North Myrtle Beach, SC 29582
15% off any non sale items (not valid with other discounts)

Ron Jon Surf Shop
843-448-8882 | Broadway at the Beach, Myrtle Beach, SC 29577
15% off a purchase of $30 or more. Card must be presented at time of purchase. Not valid on select sunglass brands, Ron Jon gift cards, surfboards and sale items. Offer cannot be combined with any other offer or discount. Not valid online.
Partner Website
Ron Jon Surf Shop - Barefoot Landing
843-272-0888 | 4810 Highway 17 South North Myrtle Beach, SC 29582
15% off a purchase of $30 or more. Card must be presented at time of purchase. Not valid on select sunglass brands, Ron Jon gift cards, surfboards and sale items. Offer cannot be combined with any other offer or discount. Not valid online.
Partner Website
The Olive Shoppe
843-281-6457 | 4894 Hwy. 17 S., North Myrtle Beach, SC 29582
10% off entire purchase (cannot be combined with any other discount)
Partner Website
Services
DermaVogue
843-272-4071 | 3816-G Highway 17 South, North Myrtle Beach, SC 29582
10% off any procedure (North Myrtle Beach location only)
Partner Website
Flowers in the Forest
843-903-3553 | 4999 Carolina Forest Blvd. #11, Myrtle Beach, SC 29579
10% off all orders of $35 or more for fresh flowers, gift baskets and/or custom orders. Standard delivery fee applies. (North Myrtle Beach location only)
Partner Website
Kokepelli Surf Camp
843-340-9565 | Any Location
$5 off any lesson per person during any time or day we are open

Massage Envy
843-213-4050 | 980 82nd Parkway, Myrtle Beach, SC 29572
1 Hour Massage - $49 90 Minute Massage - $74 90 Minute Hot Stone Session - $98 1 Hour Facial - $59
Partner Website
Michael & Co. Salon
843-448-1449 | 3578 Saint James Ave., Myrtle Beach, SC 29577
10% off all services - hair cut, style, blow dry or color (excludes salon products)

Strand College of Hair Design
843-449-1017 | 423 79th Avenue North, Myrtle Beach, SC 29572
Manicure & Pedicure - $20 Manicure, Pedicure & Facial - $30 Manicure, Pedicure, Facial & Shampoo/Style - $40 All services performed by supervised students
Partner Website
Timeless Memories, Inc.
843-246-4655 | Call for appointment
- 10% off all Photo and Video Sessions (Beach Photos $45 with tax included, $40 with discount includes 1 8x10 and 2 wallets or 2 5x7 and 4 wallets.)
- Receive a 10% discount on Wedding, Photos and Videos Services with the booking of your rooms at a VacationMyrtleBeach.com Resort.
Partner Website
Tire Town Conway
843-347-8473 | 3410 Hwy. 544 Overpass, Conway, SC 29526
$22.95 Oil & Filter Service; Free Tire Rotation; FREE Brake Inspection; Purchase 4 Tires at Regular Price and get ½ Price off Installation
Partner Website
Tire Town Myrtle Beach
843-448-8473 | 306 N. Kings Hwy., Myrtle Beach, SC 29577
$22.95 Oil & Filter Service; Free Tire Rotation; FREE Brake Inspection; Purchase 4 Tires at Regular Price and get ½ Price off Installation
Partner Website
Tire Town on Waccamaw
843-448-5727 | 3454 Waccamaw Blvd., Myrtle Beach, SC 29579
$22.95 Oil & Filter Service; Free Tire Rotation; FREE Brake Inspection; Purchase 4 Tires at Regular Price and get ½ Price off Installation
Partner Website
Tire Town South
843-293-4949 | 3414 Macklen Rd., Myrtle Beach, SC 29588
$22.95 Oil & Filter Service; Free Tire Rotation; FREE Brake Inspection; Purchase 4 Tires at Regular Price and get ½ Price off Installation
Partner Website
Nightlife
2001 Nightclub
843-449-9434 | 920 Highway 17, North Myrtle Beach, SC 29582
Free Admission (21 and over, Not valid New Year's Eve)
Partner Website
Celebrations Nitelife
843-444-3500 | Broadway at the Beach, Myrtle Beach, SC 29577
Free Entry before 11 pm to Malibu Surf Bar, Club Boca, and Froggy Bottomz (21 and over, Not valid special events or New Year's Eve)
Partner Website
Night Fever Retro Party Club
843-808-9542 | 9714 N. Kings Hwy., Magnolia Town Centre, Myrtle Beach, SC 29572
Buy one menu item and receive a second menu item of equal or lesser value for free (1 offer per card, must be 21 to enter)
Partner Website
Señor Frog's
843-444-5506 | 1304 Celebrity Circle, Myrtle Beach, SC 29577
No cover 21 and up and $5 off under 21 before 11 p.m.
Partner Website
Transportation
U-Save Car Rental
800-441-3741 | 3800 South Kings Highway, Myrtle Beach, SC 29577
Free upgrade on car rentals, 10% off mini vans, 15% off full size vans (use code PCVMBC online, must present confirmation upon check in)
Partner Website
Golf Course Offers
Barefoot Golf
843-390-3200 | 4980 Barefoot Resort Bridge Road, N. Myrtle Beach, SC 29582
$2 off bucket of range balls at resort driving range
10% discount on soft goods in resort and Dye pro shops (sale items excluded)

Partner Website